Universal Handling Company in Ust-Luga and Sea Port of Saint-Petersburg exchanged portal cranes
14 June 2022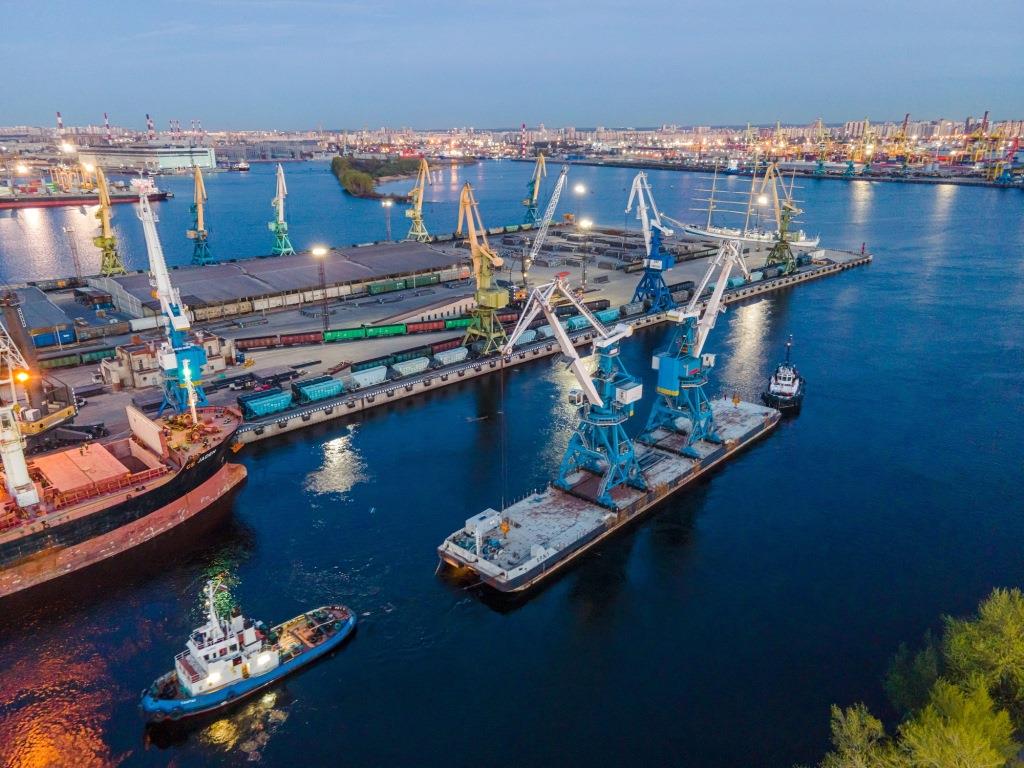 Two cranes with a lifting capacity of 40 tonnes each were delivered from St. Petersburg to Ust-Luga and one crane with a lifting capacity of 63 tonnes was shipped from Universal Handling Company (UHC) to Sea Port of Saint-Petersburg JSC (SP SPb).
This allowed UHC to decommission a less productive crane which neared service life limit, at the same time, increase the number of production lines for processing dry bulk cargoes, while SP SPb will be able to expand its general cargo handling capabilities.
The operation for the three cranes loading and transportation inside the Baltic basin was carried out by specialists from SMM Group. The assembled heavy cranes were shipped by seaborne transport.
The heavy-lift ship route was directed under the Western High-Speed Diameter (WHSD). Specialists making calculation took into account the the WHSD span vessel passage clearance – 52 meters, while the height of the jib cranes was 50 meters. So, the height dimension did not allow the vessel with cranes on board to pass under the WHSD. The engineers calculated the loading of the cranes boom system and their stability during the transportation with their boom extended, determining the boom reach to achieve the required height. The crane booms were extended to the mark of 27 meters and fixed in a special way. This engineering solution helped lower the height to 44 meters for safe passage under the WHSD span.
The well-coordinated work and professionalism of the specialists of SMM, Sea Port of Saint-Petersburg and Universal Handling Company made it possible to carry out the successful operation for shipping the cranes in the shortest possible time at a high technological level.
About the companies:
JSC "Sea Port of Saint-Petersburg" (a company of PORT ONE) is one of the largest stevedoring companies handling dry cargo in the Big Port of St. Petersburg. The Company is the operator of the state-of-the art multipurpose facilities for handling of general and bulk cargoes.
PORT ONE is a Group of Russian stevedoring and freight forwarding companies. PORT ONE companies are Transportation Assets Management LLC, Sea Port of Saint Petersburg JSC, Container Terminal Saint Petersburg CJSC, Universal Handling Complex, Tuapse Commercial Sea Port JSC, Taganrog Commercial Sea Port JSC, Universal Forwarder LLC. The core business of the Group is the development of transportation assets and their effective integration into international logistic chains.
SMM Group is a leading Russian manufacturer of heavy lifting equipment for ports, transport terminals, shipyards and industrial enterprises.