Vyacheslav Petukhov, MRC Director for Operations, awarded a commendation from the Leningrad Region Governor
17 September 2020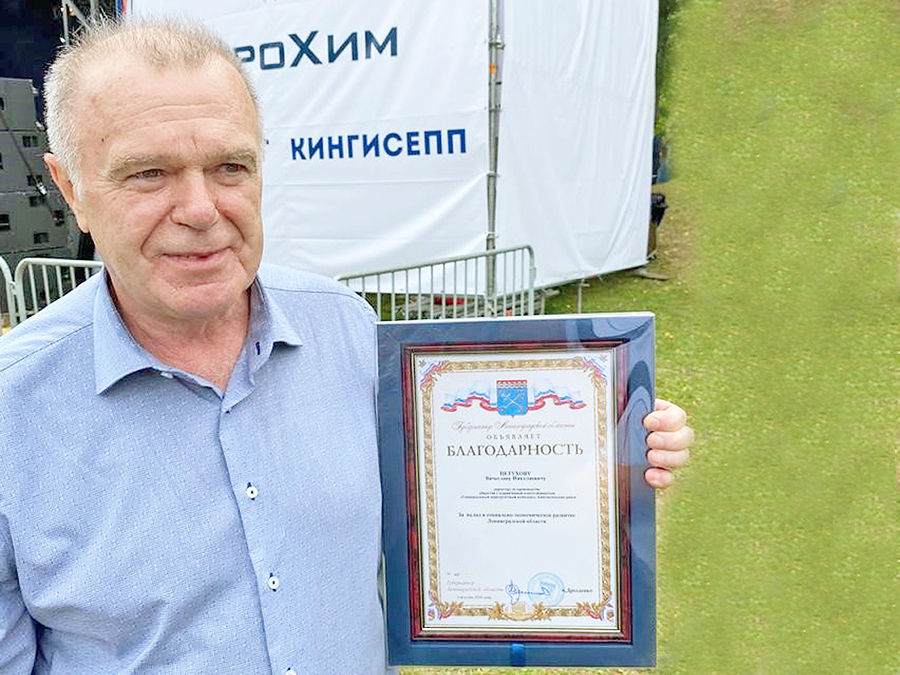 Vyacheslav Petukhov, Director for Operations, Multipurpose Reloading Complex, was awarded a commendation from the Leningrad Region Governor during the City Day celebrations in Kingisepp. Aleksandr Drozdenko thanked Vyacheslav Petukhov for his contribution to the social and economic development of the region.
— The honoring was a surprise for me and it was pleasant. Appreciation of services is essential for any person working hard, — said Vyacheslav Petukhov. — Colleagues from MRC and neighboring terminals who were present at the celebrations also congratulated me.
Vyacheslav Petukhov has been in the industry for almost 50 years. Between 1973 and 2007, he was working at Sea Port of Saint-Petersburg as a shift head of storage facilities, stevedore, supervisor of railway operations, deputy to the general director for operations at First Stevedoring Company, deputy to the general director at Third Stevedoring Company. From 2010, he has been holding the position of MRC Production Director.
For his dedicated work, Vyacheslav Petukhov was repeatedly awarded with honorary certificates, a title of the best in the occupation, silver and golden Sea Port of Saint-Petersburg badges. Last year, he was awarded a commendation from the Minister of Transport of the Russian Federation.
The colleagues of Vyacheslav Petukhov mark his perfect managerial and business qualities as well as effective leadership of the Production Department. They say he is a respected and responsible specialist with a high ability to work, exacting attitude towards himself and subordinates.
We congratulate Vyacheslav Petukhov on the new well-deserved honour and we are proud of having such a professional in our team!